Addressing the Carbon Footprint of Freight
Delivering and distribution takes a lot of miles. Freight transportation represents over 10% of Canada's national GHG emissions, growing by 300% since 1990. The Last Green Mile has seen this amount of driving and has spotted a problem. Enormous amounts of driving produce a fair share of GHG emissions.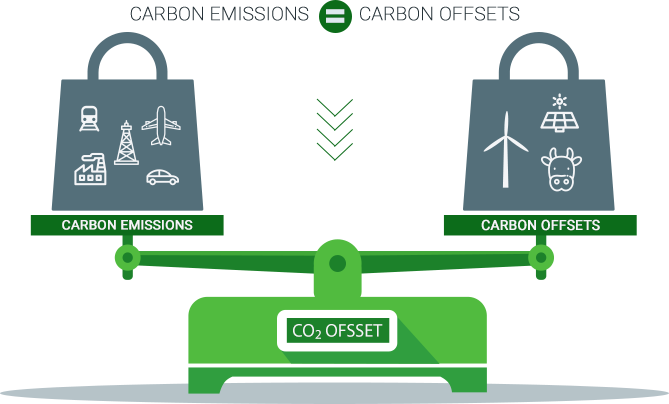 How do we counteract large amounts of carbon emissions?
The Last Green Mile has solved this problem by Carbon Offsetting. What is Carbon Offsetting? A carbon offset is the reduction of carbon GHG emissions made to compensate for – or "offset" – an emission made elsewhere. By applying an equal amount of certified and verified carbon offsets from qualified projects, the Last Green Mile compensates for these emissions. This balance of carbon emissions and reductions creates carbon neutral footprint for companies working with the Last Green Mile.
Simple and Transparent
The Last Green Mile quantify the GHG emissions from a vehicle fleet based on the type of vehicle, fuel efficiency, fuel type and distance travelled.

The actual emissions from fuel combustion is calculated using recognized emission measuring methods.

The amount of emissions made by a company are neutralized by offsets purchased and retired to the environment.

You can spot a Last Green Mile truck by looking for the Last Green Mile decal located on the truck.
By working with the Last Green Mile, businesses aren't just making a smart environmental decision, they are making a difference. Reducing the amount of carbon dioxide is doing our part in taking care of our planet. Everyone creates waste, so cleaning up after ourselves is crucial. The Last Green Mile allows for us to know we are being responsible business owners.
How does the Last Green Mile decide to carbon offset?
The Last Green Mile chooses to invest into projects that they feel enrich the quality of life of those affected, as well as reduce the amount of carbon released in the air.
One of the projects that the Last Green Mile chooses to invest in is bringing fluorescent lightbulbs across Indian railway residential quarters. To reduce the carbon emissions that are released in the air, fluorescent lightbulbs are being placed in exchange of incandescent lightbulbs. The project activity involves replacement of incandescent lamps with Compact fluorescent Lamps (CFLs) of equivalent or higher lumen across the residential colonies that are located near the northern sector of the Indian Railways covering a maximum of 142,422 households. The Southern and North east Region of the Railways spreads across the states of Tamil Nadu, Kerala, Karnataka, Andhra Pradesh, Arunachal Pradesh, Tripura, Mizoram, Sikkim, Meghalaya, Nagaland and Assam.
IdleAir is another great way the Last Green Mile chooses to carbon offset. IdleAir provides an alternative to idling their engines during rest periods. IdleAir service allows truck drivers to turn off their diesel engines and APU and still enjoy heating, cooling, standard electric inside and outside the cab, Satellite TV, Internet and many of the comforts of home. IdleAir is saving money and reducing exhaust fumes from idling.
Proyecto Mirador is a non-profit organization that sells carbon offsets to finance the construction of Dos por Tres fuel efficient stoves in Honduras. Dos por Tres stoves remove toxic smoke from homes, reduce CO2 emissions, save trees and create jobs. Mirador has built over 100,000 stoves since its inception. Spending 4-6 hours a week gathering firewood has now been cut in half by using a Dos por Tres stove. These stoves only need half of the firewood to do the same job, which saves time, energy and money. These stoves are made from local materials, which generates business from local construction companies along with brick makers, steel workers and other kinds of builders.
If you would like to find out the full story on the Last Green Mile, check them out at lastgreenmile.org